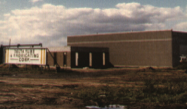 1993
Delta grows again as 7,500 sq. ft. are added for an after paint assembly center.

1994 Name officially changed to Richfield Industries.
1995 Sales and Corporate Offices open on Airpark Drive in Flint.
1996 Logistics Management and Engineering Centre opens offering full prototype and design services. Purchase of R & R Technologies, L.L.C.
1999 Richfield Industries celebrates 60 years of quality service. Building begins on 22,000 sq. ft. addition to Corsair Engineering, which will house powder painting, and after paint assembly.

2003 First order from Harley Davidson.

2005 First order from Polaris Industries, Inc.
2006 Purchased Soroc Products.

2007 First order from Honda.

2008 First order from BMW.

2008 First order from John Deere.

2010 First order from VW.